OK, just to BE CLEAR, I may miss a few things.
This week I got started on my Genetics unit in Biology. So far, it's been the only unit that makes sense. Hopefully, it won't take a turn for the worse.
ANYWAY, my fangirl heart got to thinking - how are genes passed from god to demigod to legacy?
It's taken a while, and some of my science may be incorrect, but HERE WE GO, COMPLETE WITH PUNNET SQUARES, MY THEORY ON HOW GENES ARE PASSED DOWN.
Starting with this fact, which is really a very important part: some dominant/recessive genes can mutate and become recessive/dominant genes.
Which means that these genes are dominant when in the supernatural, but mutate into recessive genes when they are mixed with a human's genes.
It's just a theory, but since science had never really had to explain why human beings can have powers from their godly parents, it's the best I can do.
Here is a pedigree example: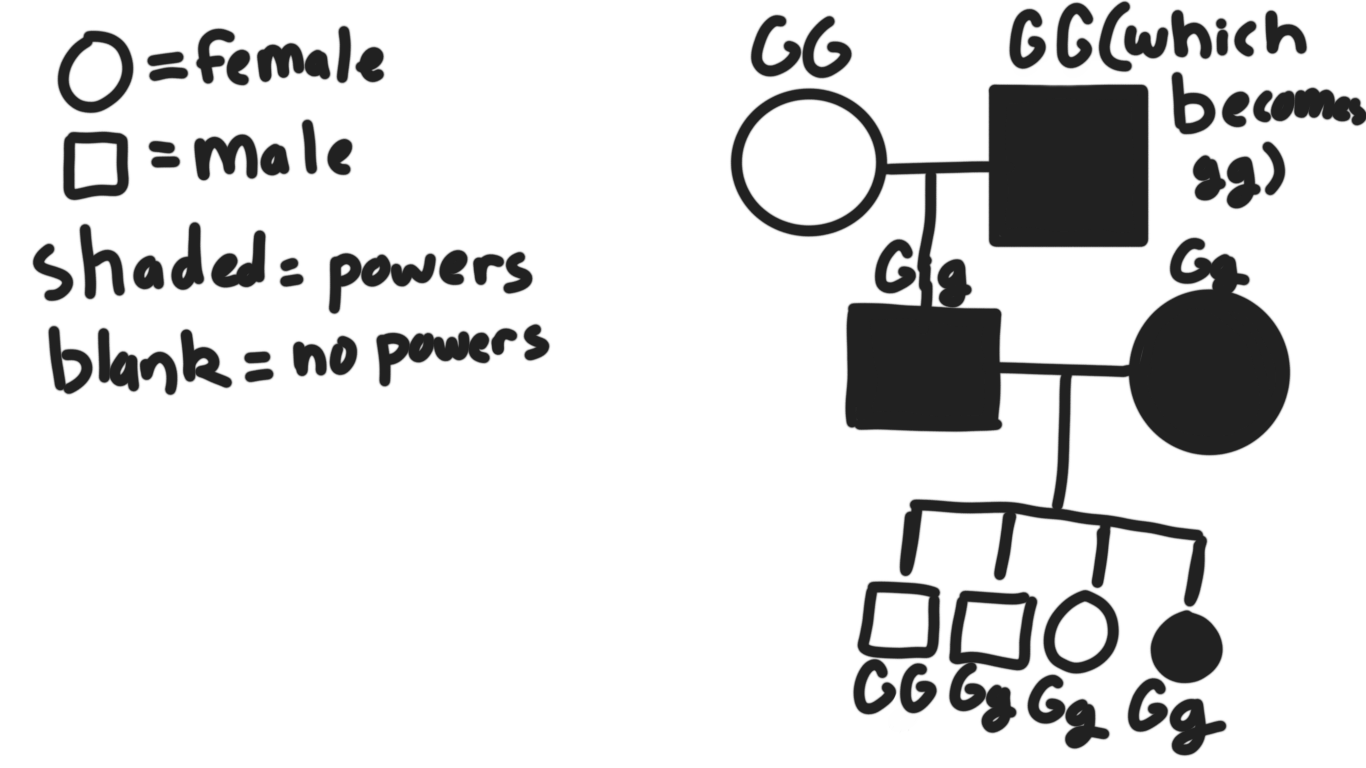 (sorry for the awful handwriting)
This pedigree gives you an example of what happens when a god and mortal have a demigod, then when 2 demigods have a legacy.
The capital letters show dominant genes, while the lowercase ones show recessive genes.
As they say in the books, "powers get watered down with each generation."
The only way this is possible is if powers mutate to become a RECESSIVE gene, thus the phenotype (the way the gene appears outwardly) is that the person has powers.
And so, that is my theory about how demigods get their genes.
BUT WAIT, THERE'S MORE!
I told you this was ALSO how legacies get their genes, so here we go.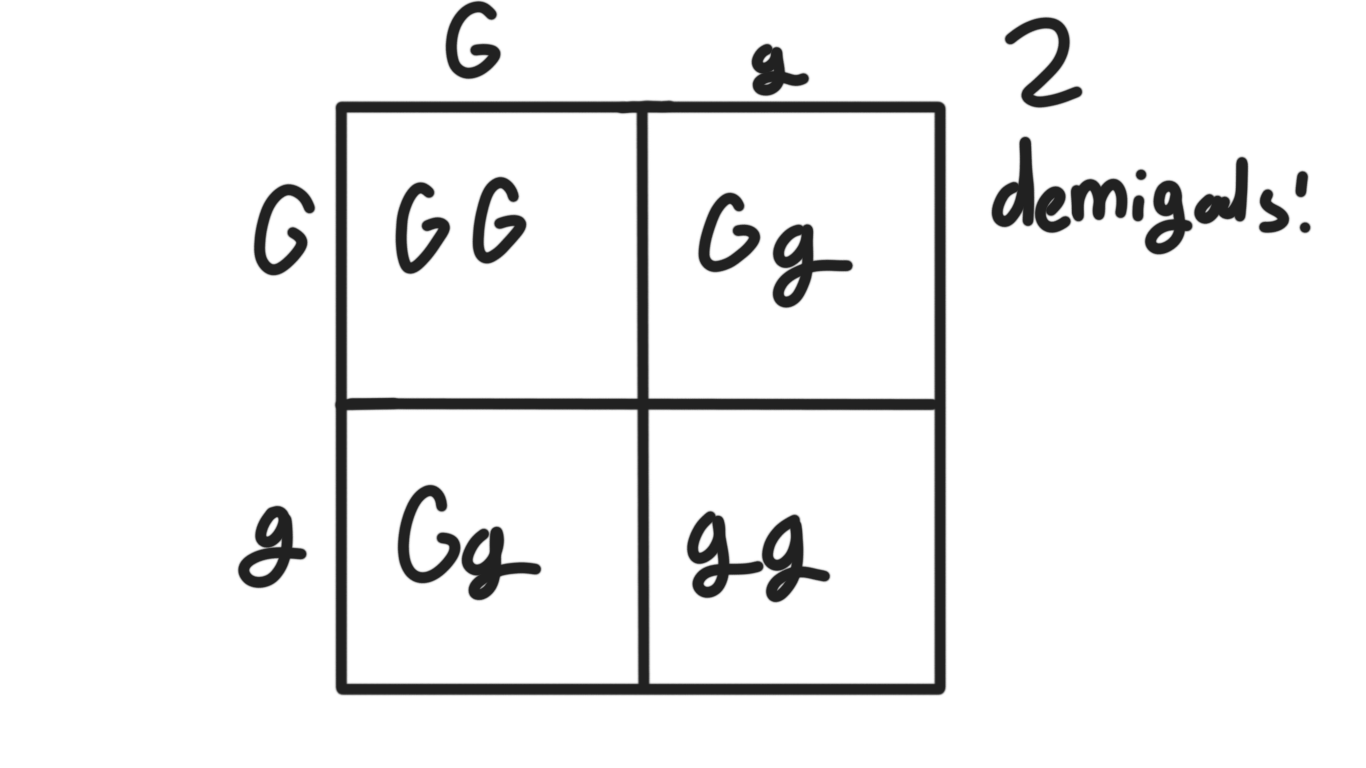 Here is a punnet square giving an example of two demigod's children. The mortal genes are dominant while the power genes are recessive. Thus, only 25% of A demigod's children, no matter how strong the parentage, will have powers.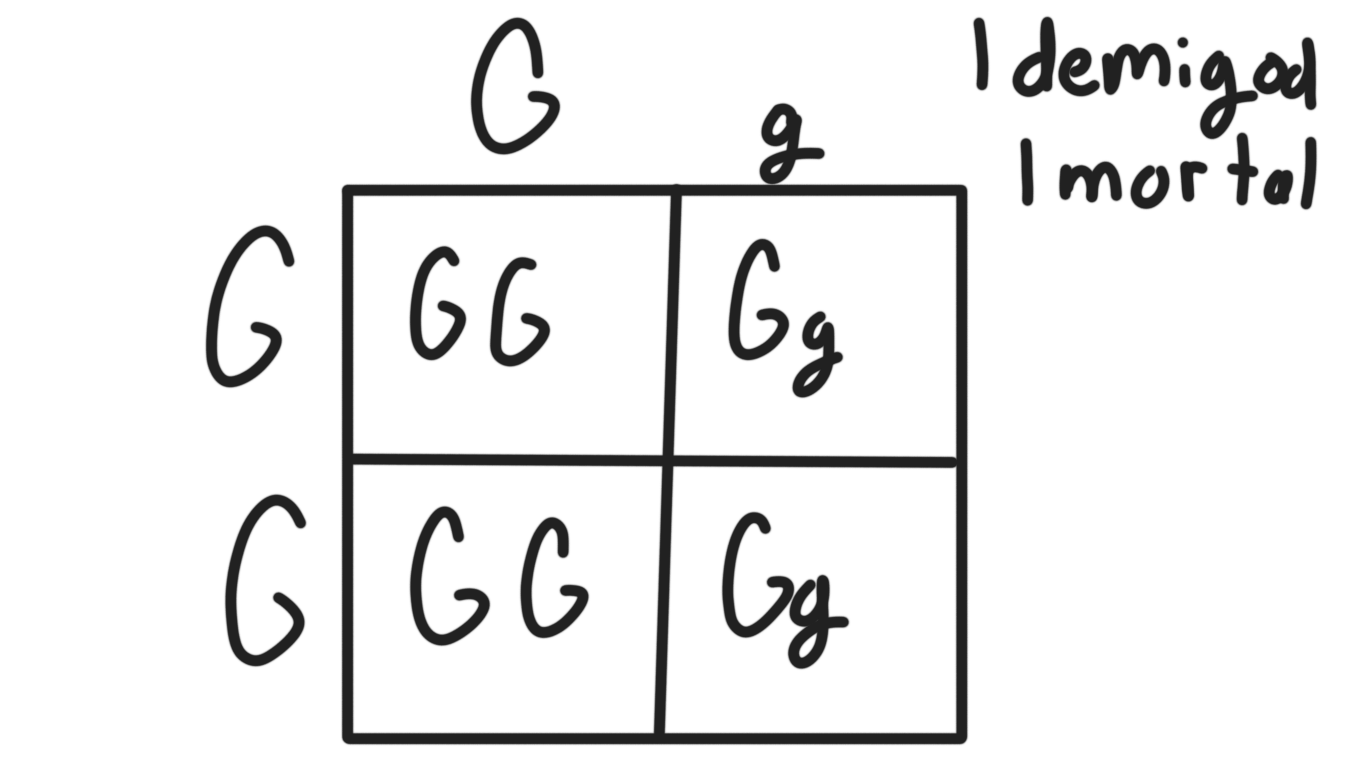 Here is a punnet square giving an example of the offspring of a mortal and demigod. NONE of their children would have powers, because the mortal genes are dominant and all of the genotypes are masked by the dominant genes. As you can see, however, two of the offspring are heterozygous, which means that they have two different genes; one dominant and one recessive. This means that if they had an offspring with another heterozygous person, their child would have a 25% of having powers.
Thanks for reading! IF some of the lingo doesn't make sense, just google it and im sure something that makes sense will :)
Have a great day!!
-Lilpars