Adam Hoag is a student at Culeco Academy of the Arts.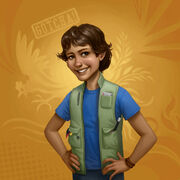 For his performance in interpretive theatre workshop, he shows a documentary of himself getting wedgied in a variety of techniques.
He, Sal Vidón, Teresita Tómas, and Widelene Henrissaint are the only students in English class as everyone else is in the play. When their teacher, Mr. Cosquillas, starts using the gender neutral "señorx", he mistakes it for Snorlax and talks his difficulty getting it in Pokémon Y. They spent the class talking about art before going to the play.
Later on in the week, Sal makes him assistant director for the play.
Appearance
Adam is a scrawny boy who wears a beret.
Trivia