Aeithales
is a series of greenhouses, most of them burnt down due to
Caligula
's efforts. Aeithales was tended by
Phillip McCaffrey
, and was formerly the home of
Meg McCaffrey
. The remaining greenhouse is currently inhabited by cacti dryads, and most recently
Herophile
, who often take refuge in the nearby
Cistern
.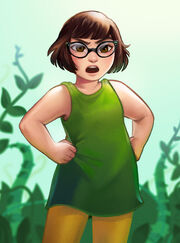 Meg, Apollo, and Grover Underwood exit from the Labyrinth here. The three are greeted by a Dryads living in the destroyed greenhouses. Meg reveals that she used to live in Aeithales until she and her father were forced to flee when she was five. The group decides to use it as a base camp as they set out to stop Caligula.
When Helios is freed of Medea's control and the drought ends, the dryads rebuild the daughter of Demeter's childhood home and ask her to stay, she declines in favor of helping Apollo.
Known inhabitants
Trivia
Aeithales is Ancient Greek for evergreen.
Community content is available under
CC-BY-SA
unless otherwise noted.