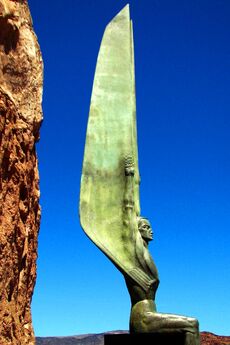 "
Carved into the side of a cliff was a little plaza with two big bronze statues. They looked kind of like Oscar statues with wings.
"

–Percy Jackson, thinking about the statues
The Angel Statues are two automatons that are at the Hoover Dam. They were made by Athena, and given to Zeus as a gift when they were finished. The mortals think rubbing their toes will bring them good luck, which is why their toes appear newer and are shinier than the rest of the statues.
When Percy Jackson, Thalia Grace, Grover Underwood, and Zoë Nightshade are being chased by Skeleton Warriors at Hoover Dam, they are trapped with the skeletons coming from all sides. Percy makes Thalia to pray to Zeus, and the two angel statues (Hank and Chuck) start moving. The two statues carry them off to San Francisco, a journey Thalia does not enjoy due to her fear of heights, and then leave to "flirt with some other statues."
Statues
Community content is available under
CC-BY-SA
unless otherwise noted.