"
One last gift for the child of Athena. I cannot have you walking to your death unarmed. Now, go! Before it is too late.
"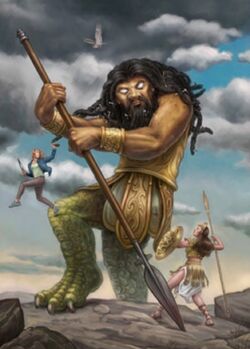 Annabeth's Sword is a sword made of drakon bone. It was given to her by Damasen after she lost her knife in Tartarus.
History
When Annabeth Chase fell into Tartarus along with Percy Jackson, she lost her knife, the weapon she owned since she was seven, given to her by Luke Castellan. While wandering through Tartarus, she was unarmed and had to rely on Percy and Bob the Titan for protection due to her lack of weaponry. When Percy was fatally poisoned, Bob took the pair to Damasen where he was able to heal Percy and provide them with a few hours of rest.
Before the trio departed Damasen gave Annabeth a sword he had made out of Maeonian Drakon bone. The sword is honed to the edge and has a simple leather grip.
When Bob, Percy, and Annabeth arrive at the Drakon Swamp, they come face to face with a ferocious drakon. Damasen bursts from the swamp and attacks the monster. After Damasen disposes of the drakon, he gathers the remains and welcomes the three into his home where he heals Percy in exchange of a story and provides them with food and protection for a few hours so they can rest.
While Annabeth sleeps, Damasen creates a sword for her out of the drakon's bone. When Annabeth first saw it, she thought it might be a toothpick in Damasen's hand.
When Annabeth and Percy reach the Doors of Death, she uses the sword to slice through the chains holding the doors in place, and then to defend herself against the army of monsters.
Trivia
In The Blood of Olympus, Annabeth's Sword is often mistakenly said to be made of Dragon Bone rather than Drakon Bone.
Annabeth's Sword is the only known sword that isn't made from a Magical Metal.

Even though this sword isn't made of any Magical Metal, it is able to kill monsters.