Cobra Kai Season 4 - The Loop
Play Sound
The Apples of Immortality are golden apples that grow in the Garden of the Hesperides. They are guarded by the dragon Ladon, and was a wedding gift to Hera from Gaea.
History
Hera's Wedding Gift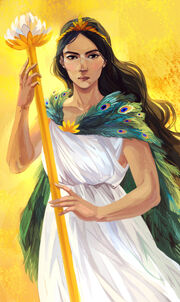 At the wedding of Zeus and Hera, a sapling bearing the apples of immortality burst from the ground, which Hera immediately recognized as a gift from her grandmother Gaea. She ordered the tree to be planted in a garden at the farthest western corner of the earth, right at the feet of the Titan Atlas. His daughters, the Hesperides, guarded the tree with Ladon.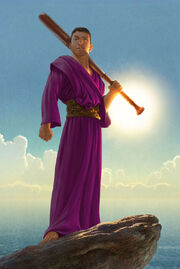 As his eleventh labor, Hercules was instructed to steal the apples of immortality. He is helped on his quest by the Hespirid Zoë Nightshade, who tells him to trick her father Atlas into getting the apples for him, as Ladon is too strong to overcome.
Later, Hercules takes on the burden of the sky, freeing Atlas who successfully retrieves the apples from the Garden of the Hesperides. However, he tricks the Titan General into holding up the sky once more, completing his quest without so much as giving credit to Zoë for her help.
A bitter Luke tells Percy Jackson about his quest and the aftermath of it.
Percy Jackson dreamt Zoë instructing Hercules how to steal the apples of immortality.
Later when Percy, Thalia Grace, and Zoë enter the Hesperides' Garden, they see the golden apples being guarded by the sleeping Ladon.
Appearance
The apples of immortality grow on a five-story-tall apple tree and are described as glittering golden apples that gave off an appealing fragrance, so much that Percy Jackson knew that one bite would be the "most delicious thing [he'd] ever tasted".
Trivia
In The Titan's Curse, Thalia mistakenly says the apples of immortality was a wedding gift from Zeus to Hera, when it was in fact Gaea who gave it.
The Norse Gods maintain their immortality with similar golden apples provided by Idunn the Norse Goddess of Spring and Youth.