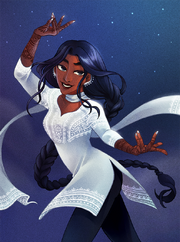 Apsaras ("AHP-sah-rahs") are beautiful, heavenly, and skilled dancers who entertain in the Court of the Heavens. The word translates into fairy, nymph, or celestial maiden.[1]
History
Apsaras often the wives of heavenly musicians. In Hindu myths, apsaras are usually sent on errands by Lord Indra to break the meditation of sages who are getting a little too powerful.[2] These celestial women are also known for their divine beauty and charming appearance.
Pandava Quartet
Urvashi appeared as a member of the Council of Guardians
Then there was the little one...

This article is in need of expansion. You can edit it in order to achieve a higher standard.
Notable Apsaras
References