Boba Fett Returns - The Loop
Play Sound
Ares' Shield is the magical shield owned by the god of war Ares.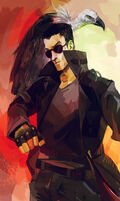 While on a date with Aphrodite at an amusement park named Waterland, Ares left his shield in the Thrill Ride O' Love when he discovered the ride was a trap made by Hephaestus. Ares approached two demigods and a satyr in the area, Percy, Annabeth, and Grover, and asked them to retrieve the shield for him in exchange for a ride west. When asked why he didn't just get it himself, Ares answered that he didn't have time and was offering them a chance to prove themselves.
When the three arrive at Waterland, Percy and Annabeth head into the Thrill Ride O' Love to find the shield. They found the shield in the seat of a boat next to a silk scarf. However, when the shield was picked up, Hephaestus' trap activated, causing the room to fill with metal spiders, which freaked out Annabeth. Percy filled the room with water and the two rode a boat out of the tunnel with the shield, narrowly avoiding smashing against the exit gate in the process.
Once they return to Ares, Percy confronts Ares about knowing the ride was a trap, but returns the shield. Ares also made good on his promise and gave the three a ride west on a truck for Kindness International. After taking the shield back, it changed form into a bulletproof vest that Ares slung across his back.