Ariadne's String is a string that helps guide someone through the Labyrinth. It is said to be red and woven from wool by Ariadne.
History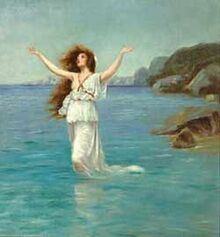 According to an Athenian version of the legend, Minos attacked Athens after his son was killed there. The Athenians asked for terms and were required to sacrifice seven young men and seven maidens every nine years to the Minotaur. One year, the sacrificial party included Theseus, a young man who volunteered to come and kill the Minotaur.
Ariadne fell in love at first sight and helped Theseus by giving him a sword and a ball of red fleece thread that she was spinning, so that he could find his way out of the Minotaur's labyrinth by leaving a trail of the string behind him. After he defeated the Minotaur, he was able to easily find his way back out by following the trail of string.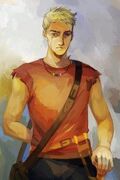 Luke Castellan eventually convinces Daedalus to give him the string to help guide Kronos' army through the Labyrinth to invade Camp Half-Blood. During the battle, Kampê was seen holding it as she burst out of the entrance to attack.
After Kampe was killed by Briares, the army lost the string and were forced back into the Labyrinth by Grover Underwood with Pan's Panic cry. However, everyone knew that even without the string, the army would find a way back to Camp Half-Blood, so Daedalus sacrificed himself to destroy the Labyrinth and prevent this.
Trivia
The string isn't the only way to navigate the Labyrinth. Another way is to allow a mortal who can see through the mist spot the various traps and dead-ends. Hephaestus tells Percy Jackson that this is a much better way than the string and indicates that Ariadne herself was one such mortal.
Community content is available under
CC-BY-SA
unless otherwise noted.