Artemis' Knives are two hunting knives used by Artemis. Each one is her arm's length and made of Celestial Bronze like the knives of her Hunters.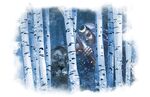 Artemis uses the knives while fighting Atlas. During the battle, the goddess is knocked down and the knives are not mentioned anymore.
Description
The material that the knives are made from is silver, which is a color and symbol of Artemis and her hunters. Percy describes them as "wicked" long hunting knives. Like diamond bladed swords, the knives of Artemis are bewitching and deadly. They are well known for their charms and mercilessness. 
Use
The knives are the primary weapons of Artemis when fighting in close combat and are presumably also used during her hunts.