Artemis's Cabin (#8) is the cabin made for the Hunters of Artemis for when they stay at Camp Half-Blood. They stay there because Artemis has no demigod offspring. Whenever the Hunters come to Camp Half-Blood, there is a traditional, not-so-friendly/intense game of Capture the Flag.
Description
Artemis's cabin is a silver building that glows at night, as if reflecting the moon's rays. During the day, it looks like a regular cabin. It is decorated with the paintings and carvings of wild animals, mostly the stag.
Known Occupants
Abilities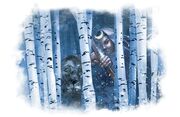 Magic Items
The weapons appear whenever they are needed by the Hunters.
Trivia