"
The place was a workshop for brainiac kids.
"
Athena's cabin (#6) is the cabin that houses Athena's demigod children at Camp Half-Blood. Most demigod children of Athena have blonde hair and grey eyes.
Description
It is a gray building with an owl carved over the doorway and plain white curtains. The interior has a workshop and a library, with bunk beds pushed up against the wall, designed ("as if sleeping didn't matter very much"). The library is filled with thousands of books and old scrolls, as well as tables and chairs for demigods to study and read. The workshop is crammed with tables and work benches, and the cupboards are filled with materials to build things. There are also several 3-D models of buildings, blueprints, old war maps, and armor. It was later said that the cabin was also filled with SMART boards and other things typically found in classrooms. On the side of the Athena cabin is their armory. As Piper described it, it looked like a big metal gardening shed.
In the graphic novel, Athena's cabin looks like a temple with columns, a red roof, and an owl carving on the door.
Known occupants
Magic Items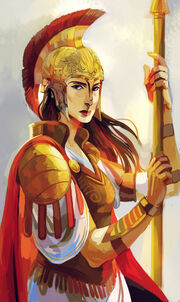 Abilities
They all have enhanced strength and swiftness.
They are able to adapt to using various types of weapons quicker than normal.
They never forget what they heard.
They have immense expertise in war strategy.
They have great control over any weapon.
They are highly skilled in armed and hand-to-hand combat.
They possess high intelligence and wisdom.
They know how to weave instinctively.
Reference