Spider-Man: No Way Home Trailer Dropped - The Loop
Play Sound
Aunty Em's Garden Gnome Emporium, is a garden statuary shop in Leeds Point, New Jersey, off the main highway. It is the lair of the infamous gorgon, Medusa.
Percy Jackson, Annabeth Chase, and Grover Underwood stumble upon Aunty Em's Garden Gnome Emporium in search of food after all of their supplies have exploded on a bus after an encounter with the Furies. As the trio walks in, they are greeted by many statues of animals, children, and people. Grover is suspicious about the place and discovers a statue that is of a satyr that looks like his Uncle Ferdinand. Grover begs Percy and Annabeth to turn back due to the smell of monsters. At first, the emporium appears to be run by a kindly middle eastern woman who offers to feed Percy, Annabeth and Grover for free. However, it soon becomes clear (at least to Annabeth and Grover) that something is amiss and Aunty Em turns out to be none other than Medusa.
The emporium is where Medusa stores her victims and also the hideout for Kronos and his Titan Army while they are fighting Percy, Annabeth, Thalia, Grover, Chiron, and the other demigods from Camp Half-Blood who are defending the Empire State Building entrance to Mount Olympus in the Battle of Manhattan.
Film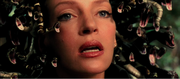 While searching for Persephone's pearls at Aunty Em's Gnome Emporium, Annabeth is told by a woman that "the evil lady turned her husband to stone" and that she has to help the woman against Medusa which Annabeth agrees to. They try to find a way to escape but are cornered in a dead end of the overgrown garden by Medusa who later turns the woman that needs Annabeth's help into stone, making Annabeth's hand stuck. At the same time, Grover, while alone and looking at a concrete statue which he thinks looks like his Uncle Ferdinand and then realizes that it really is his Uncle Ferdinand, runs to get Percy to tell him that it is really Medusa's lair that the three of them have stumbled on. However, Percy at the time was about some paces to the right when he hears Grover shouting his name. Fearing that Grover was facing some kind of danger, Percy pulls out Riptide, his celestial bronze sword disguised in the shape of a pen, and runs to find his friend. Soon they abruptly ran into each other by mistake and Grover knocks Riptide out of Percy's hand. Percy asks him what was the matter and Grover hurriedly tells him that he had just found out that a statue near the fountain of drachmas that he was gazing at was really his Uncle Ferdinand and that the place they had set forth in was really Medusa's lair. Percy then realizes that they are in deep trouble and they go searching for Annabeth.
As they are searching for her, Grover hands Percy an Apple iPod Touch and tells him that he has to use the iPod to look at Medusa's reflection, not the monster's real face or he could be turned to stone and Percy acknowledges that he should. Quickly, Percy distracts Medusa while Grover then goes and rescues Annabeth. However, Percy got close to being turned to stone by Medusa until Annabeth and Grover saved him by ramming Medusa with a pickup truck while their eyes were shut making some stone statues fall to the ground hitting Medusa and setting Percy free away from her. After the initial collapsing of the statues upon Medusa, the Gorgon picks up the iPod and gazes at it, distracted by its technology which gives Percy an advantage as he picks up Riptide and cuts her snake-filled head.
Gallery