Austin Lake is a Greek demigod son of Apollo. He and his siblings, along with the rest of the campers, fought in the Battle of Manhattan.
Austin is among the campers that go to New York City and fight for the Olympians. He and his half-sister Kayla set traps along the Williamsburg Bridge, as commanded by their half-brother, Michael Yew.
Austin survived the battle, and was commanded by the new cabin counselor Will Solace, his half-brother, to look for Michael Yew. Michael's body was never found, though it is clarified in The House of Hades that he died in the Battle of Manhattan.
Austin appears along with Kayla, when Apollo is brought to Camp Half-Blood. When he learns that his father became mortal, he worries if that means the skills and powers they'd inherited from him shall disappear, Apollo assures him that they will not. 
During music lessons he praised his father for his talent. He pairs with Kayla during the three legged death race, during which they are taken hostage by Nero. Later, Apollo finds him and the other hostages tied to stakes and coated in flammable substances. Before the god-emperor sets him on fire Peaches attacks him and his father pulls him off the stake. Apollo gets him out and he tells him to free the others. 
They fly back to camp as Nero's assault is taking place. Austin drives the chariot while Apollo shoots the plague arrow. 
Apollo mentioned that Austin had told him he had to maintain his equipment while traveling.
After escaping the Strix, Apollo wonders how his son is doing at camp.
Appearance
Austin is a tall African-American boy, with cornrows shaped like a double helix. He wears a black wool peacoat and black jeans. In The Hidden Oracle, Apollo describes him as looking about thirteen, along with "as if he'd stepped from the deck of an eighteenth-century whaling vessel."
Abilities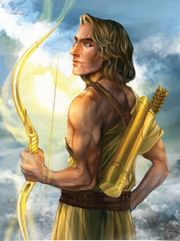 Austin has many of the gifts typically associated with children of Apollo, including music, archery and healing.
Musical Aptitude: Austin is a skilled musician, which seems to be his primary focus. His latest music video reached five hundred thousand views in a week. His main instrument and genre is jazz saxophone, although he is also shown playing the violin in a music class to challenge himself.
Vitakinesis: Austin can heal people by singing a song to his father in Ancient Greek.
He can curse others to only speak in rhyming couplets that can take days or even weeks to wear off.
He is an expert archer, his skills only rivaled by the Hunters of Artemis.
He is skilled in physical contests and games.