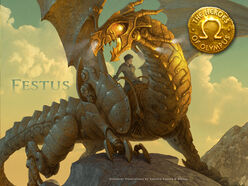 Automatons are like robots but are more highly developed than ordinary machines. Most are made out of Celestial Bronze with some exceptions. They have intricate circuitry in them which makes them hard to fix.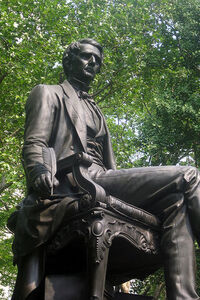 Abilities
Automatons possess built-in maneuvers, activated by voice command, such as Daedalus' Plan Twenty-Three. ​​​​​​However, Charles Beckendorf described them as being dangerous if not fixed or activated the proper way. An example of this is Festus, an automaton dragon that went rogue after Beckendorf died in the 2nd Titanomachy. The dragon caused lots of havoc and was considered to be a massive threat until it was tamed by Leo Valdez. Some abilities that automatons possess include: ​​​​​
Enhanced Physical Prowess: They have massive strength and endurance, being able to carry many people and withstand normal attacks.
Enhanced Reflexes: They are fast enough to be able to deflect arrows.
Flight: Some of them have the ability to fly, such as the Angel Statues and Festus.
Shapeshifting: Some of them can transform into other forms, such as when Festus folded down into a suitcase.
Sentience (limited): Some automatons possess limited sentience and perhaps even free will. 
Known/Notable Automatons
Trivia