Billie Ng is a Greek demigod daughter of Demeter who made her first appearance in The Hidden Oracle. She is the one to show Meg McCaffrey Demeter's cabin.
Billie showed her half-sister Meg McCaffrey to their cabin when she was claimed by their mother. During the claiming itself, Billie got annoyed when Damien White believed that the symbol meant that Meg was a communist. Billie was paired with Valentina Diaz during the three legged death race. Billie gave Meg and Apollo supplies when they went in search of the missing campers. When the Demeter cabin was destroyed during Nero's assault on the camp, Billie and Miranda Gardiner moved into the Hermes' Cabin.
Personality
Billie is kind to her siblings. This can be seen in the way she showed Meg to their cabin when she was claimed and gave her supplies when she went to find the missing campers.
Appearance
Billie is of Asian descent. Her hair is cut in a bob that is dyed blue and she wears gold make up. Apollo describes her as looking like a k-pop (Korean pop) girl. In the winter months she wears a reflective silver coat.
Abilities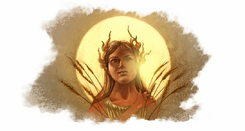 Chlorokinesis: As a daughter of Demeter, she has absolute control over plants.
Culinary Arts: As a daughter of Demeter, she's a natural cook.
Relationships
Family
Billie was kind to her half-sister and supplied her with what she knew would help her on her quest.
Billie and Katie have never had a mentioned interaction, but it is assumed she is generally kind to her siblings.
Etymology
Billie is a feminine given name derived from the masculine name William, meaning "protector".
Ng is typically associated with speakers of Cantonese, Hokkien and Shanghainese, which are dialects of Chinese. In Cantonese, the surname Ng can refer to an ancient Chinese state (吳) or an army squadron of five (伍). In Hokkien, the surname Ng refers to 'yellow' or the ancient Chinese vassal state of Huang (黃).
Trivia