Bone steel
is an enchanted metal used by
Norse gods
and their offspring. It is made by having iron smelted with bones and quenched in blood to harden it. If forged correctly, it can cut down supernatural creatures, even giants and gods.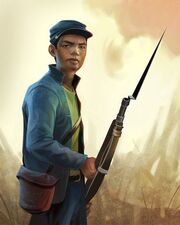 Known Bone Steel Items
Trivia
Bone steel is the Norse counterpart of celestial bronze, Imperial gold, and Stygian iron.

Unlike other mystical metals, bone steel can be much more lethal to a certain type of creature as quoted by Blitz: "Of course, you have to quench the blade in blood to harden it, preferably the blood of whatever type of creature you want the sword to be most lethal against". It is unknown if this process and its effects work with other mystical metals.
Community content is available under
CC-BY-SA
unless otherwise noted.