Bows are devices used to launch arrows. Arrows are wood shafts with tips made of Celestial Bronze, Imperial Gold, Stygian Iron, silver, or simply regular materials (such as aluminum, wood, or carbon).
Appearance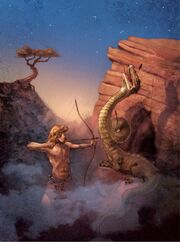 A bow is a curved stick with a string tied to both ends. They are usually made of animal tendon and horn. Arrows are thin sticks with a sharp tip, sometimes a rock or metal arrowhead, with animal feathers to help it fly. The Hunters of Artemis have silver bows and arrows.
Usage
An arrow is pulled onto the string of a bow (nocked). The arrow is then released, the string propelling it into the target.
A quiver often made of wood or leather holds the arrows.
Known Users
Notable Bows
Notable Arrows
Rocket arrows (mentioned by Frank Zhang)
Flare arrows
Hydra arrows (used by Frank Zhang)
Cursed rubber arrows
Boxing glove arrows
Silver arrows
Gallery
See Also