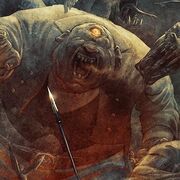 The Carnivorous Sheep are a herd of flesh-eating sheep owned by the Cyclops Polyphemus. They guarded the Golden Fleece. They are kept separate from Polyphemus's regular sheep by a rope bridge and ravine because otherwise they would eat the other animals. Only Polyphemus can approach them, but even then, the sheep get restless if he is not carrying some sort of meat for the sheep to devour.
Tyson was the only one who was able to retrieve the Fleece safely, most likely because of the similarities he shares with Polyphemus.
Description
They are as big as hippos and attack like piranhas. Once, when an innocent deer looking for food crossed their path, they rushed at it and ate it until it was no more than a pile of shining bones.
Community content is available under
CC-BY-SA
unless otherwise noted.