Central Park is public park in Manhattan, New York. The Door of Orpheus, an entrance into the Underworld, is located here.
While spreading the word of Pan's death and trying to recruit nature spirits for the impending war, Grover is knocked unconscious by Morpheus. He is asleep for several months and is awoken with his empathy link when Percy Jackson and Nico di Angelo search for the second entrance to the Underworld. Once he is awake he explains why he was in Central Park to begin with and then opens the entrance to the Underworld with his reed pipes.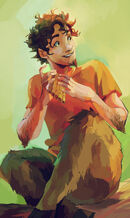 When the Kane siblings are escaping the attack on Brooklyn House and running from the carriers, they run into Central Park and narrowly escape Sekhmet when the scorpion goddess attacks them.
Community content is available under
CC-BY-SA
unless otherwise noted.