Christopher is a Greek demigod son of Hephaestus.
Christopher appears presenting himself to Leo Valdez when he was introduced to his half-siblings.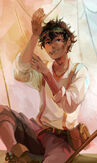 Abilities
As a child of Hephaestus, he has the following abilities:
He is an expert builder and mechanic.
Technokinesis: As a son of Hephaestus, he can control machines.

He can sense machines, mechanics, or metal.
He can identify machinery type and use by touch.
He can sense faults in metal ore.

He can find and sense traps in the ground.