This article is about Clarisse's first spear. For her second spear Maimer, see Maimer.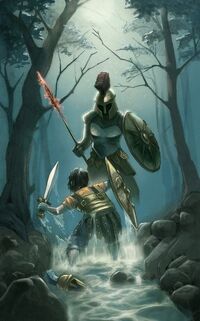 Clarisse's Spear was Clarisse's first electric spear, given to her by her father Ares. It was later replaced by a second spear, named Maimer, which everyone calls 'Lamer' behind her back. Clarisse prefers the spear over any other weapon.
Annabeth warned Percy to watch out for Clarisse's spear during a game of Capture the Flag. Clarisse used her spear to attack Percy in order to reclaim the Ares cabin's honor. Percy and Clarisse fought a well played battle yet Clarisse delivered an almost fatal blow. The electricity of her spear caused mild paralysis in Percy's arm and leg when Clarisse managed to make contact with Percy. Percy was thrown into the water by other Ares children which caused him to regain his strength and he used the water's power to destroy the spear by snapping it in two with his sword and shield which caused an electrical aftershock, and was claimed by Posidon shortly after . Ares, Clarisse's father, found out about Percy and the destruction of the spear, but didn't mind. He said he "doesn't fight his kid's fights."
Community content is available under
CC-BY-SA
unless otherwise noted.