We're Getting Mutants in the MCU - The Loop
Play Sound
Crusty's Water Bed Palace is a waterbed store owned by Procrustes.
Business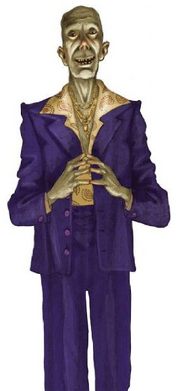 Whenever someone comes into Procrustes's store, he claims to be selling water beds, but when they get on the water beds he says "Ergo!" and magic ropes spring from the bed to stretch them to six feet. If they are too tall, he will cut part of them off, too short and he will stretch their spine, killing them in the process.
Percy Jackson, Annabeth Chase, and Grover Underwood run into a shop to escape a gang of teens chasing them, and that shop happened to be Crusty's Water Bed Palace. There they met Procrustes, who goes by the name "Crusty." Annabeth and Grover get tricked into trying out water beds, and with a snap of Procrustes's fingers and the word Ergo!, Annabeth and Grover get trapped, but Percy manages to free them by tricking Procrustes, telling him how great they are and he should lay on his own bed. When he had finally done so, Percy yelled Ergo!, which caused ropes to spring up from the bed and keep Procrustes in place. Percy cut him with Riptide for "sizing" and Procrustes turned to dust. After looking up the address of the entrance to the Underworld, they left the store. It is unknown what happened to it since Procrustes was killed.
A deleted scene was of their encounter here, but was completely omitted from the film and DVD.