Demeter's Cabin (#4) is the cabin that houses the demigod offspring of Demeter. It was destroyed when the Colossus Neronis attacked the camp. The inhabitants now reside in cabin 11 until the cabin can be rebuilt.
Description
The roof of the cabin constructed of growing grass and has tomato vines growing on the walls. It has wild flowers and roses growing on the porch. The cabin color is a light shade of brown. It is in between Hera's and Athena's Cabin. Inside, there is a grassy floor and an oak tree in the middle of the cabin that holds up the ceiling.
Known Occupants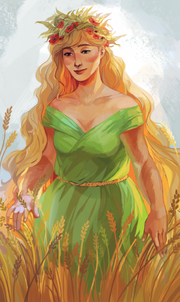 Abilities
According to Apollo in The Hidden Oracle, children of Demeter typically aren't very powerful, although some, like Meg McCaffrey, can be unusually powerful. They are, however, more powerful than their Roman counterparts as Demeter is more powerful than her Roman form of Ceres.
Chlorokinesis: As children of Demeter, they have the ability to control plants. The children of Demeter helped in the Battle of Manhattan, and they frequently use their powers to make their cabin look good. However, according to Apollo, typically this is limited to making plants grow and keeping bacterial fungi at bay.

Plant Telekinesis: The children of Demeter are able to telekinetically manipulate fruits and vegetables, this is seen when Meg saved Apollo from two thugs.
Plant Sensitivity: The children of Demeter can sense the location of various plants with superhuman precision, this is seen when Meg was able to quickly detect the odor of a golden apple in the Labyrinth. She later claims to have the ability to "hear" trees growing.
Plant Growth Acceleration: The children of Demeter can make plants grow faster than normal or even in enormous proportions.
Plant Teleportation: The children of Demeter can teleport using plants, as Meg used this ability to escape Nero. However, this is a rare ability which only the unusually powerful Meg is known to have displayed.
Wood Sensitivity: The children of Demeter can sense the location of wood with superhuman precision.

Geokinesis: They have a limited amount of control over the earth. Children of Demeter may have some potential to develop this ability on a level more powerful than that of Hades' children.
Culinary Arts: They are natural cooks, as shown in The Last Olympian.
Trivia