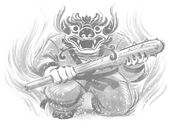 Dokkaebi are goblin-like spirits in Korean folklore.
Sujin, a dokkaebi, is stationed aboard the Pale Lightning.
Riley Oh and her parents meet with the Dokkaebi in the temple to make a deal to get the last fallen star. Her mother fails to make a deal as it asks for either the life of Riley or Hattie. Riley then meets with it and, as payment, it requests her magic and the Gom and Horangi's memories of her. She reluctantly accepts, but it says she already has the star.
Abilities
Dragon Pearl
Strength: Dokkaebi are known for their strength.
Food Summoning: Dokkaebi can summon food with the use of a wand or club.
Gifted Clans
Summoning: Dokkaebi can summon objects through different plans of existence.
Wish Granting: Dokaebi can grant the wishes of anyone who asks, however they ask for something precious for the asker in return, something related to their worst fears and can have devastating effects on their lives.
Known Dokkaebi