Doctor Strange in The Multiverse o Madness - The Loop
Play Sound
"
Hey, Apollo, you - you know the difference between a faun and a satyr . . . ?
"

–Don to Apollo, in The Tyrant's Tomb.
Don was one of the Roman fauns who hangs around Camp Jupiter, often asking for spare change and food. He died of injuries sustained from staying to make sure the sabotage of the Julia Drusilla Yachts was successful and became a laurel sapling in death.
While Hazel Levesque is showing Percy Jackson around camp, Don walks up to Hazel with a sign that says "WILL WORK SING TALK GO AWAY FOR DENARII." He asks them for change and makes up bad lies for the reasons why he needs the money, such as "I left my wallet at home," just like all fauns. Percy wonders why fauns do not help the camp, as he has some memory of the satyrs at Camp Half-Blood, who take on responsibilities such as finding demigods and bringing them to camp. However, at this statement, Don just laughs and says fauns are free spirits, before spotting a cursed diamond on the ground. Hazel picks it up before Don can grab it, much to his annoyance, but forgives her as she tells him to "Please go away" instead of just "Go away." Percy also finds his name funny, since 'Don' rhymes with 'faun'.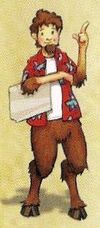 After the battle with the Giant Army, he sneaks into the mess hall and proceeds to ask people for change.
Between Series
Claudia mentions Don when remembering how he tried the sweet talk her into giving him money.
Don is accompanying Lavinia to a nature spirits meeting under the false pretense that Lavinia's crush Poison Oak might be there, when Lester and Meg crash Jason's hearse in an attempt to escape one of the eurynomoi. While the rest of the nature spirits scatter upon finding out what is hunting the two, Don is pressured by Lavinia into helping carry Jason's coffin into Camp Jupiter through some secret tunnels. Together with Meg and Lester, they eventually hear the eurynomos approaching at the same time that centurion Hazel Levesque arrives, and manage to survive Hazel's conversation with a strange voice and eventual defeat of the ghoul.
Later, after Lester has managed to make it through a half-day of teaching archery to the Romans, he is approached by Don and Lavinia. They sneak him outside the camp to the People's Park, where they introduce him to many of the local nature spirits as well as reuniting him with the karpoi Peaches. After the meeting is over, they return Lester to camp, indirectly hinting at their further plans.
During lead-up to the blood moon battle at Camp Jupiter, Don goes with Peaches to establish contact with the Nereids, helping lay plans to attack and sabotage the emperors' fifty artillery-equipped ships. Lavinia and the nature spirits and Nereids face minimal numbers during their attack, but due to Don staying too long to ensure the sabotage is successful, he is mortally wounded by the resulting explosions. After asking Lester what reincarnation is like and saying goodbye to Lavinia, he finally dies and reincarnates as a beautiful laurel sapling, which Apollo commands the others to plant and honor as the reincarnation of a hero.
Appearance
Don is described as having a brown afro and blue eyes under rainbow tinted glasses. He wears a Hawaiian shirt.
After being caught in the destruction of the Julia Drusilla Yachts, Don's entire body, excluding his right hand, is near chared.
Personality
Don had a funny personality. He was very optimistic despite his poor situation and is clearly not above making a mockery of himself for spare change. Don seemed to consider himself a friend of everyone he had tried to beg money off, and was fairly honest. He also saw the best in everyone. We see him thinking highly of Hazel due to her being polite when asking him to leave.
While he comes off as cowardly, Don can be brave if the situation calls for it, such as when he stayed behind to make sure Triumvirate Holdings's fleet is destroyed.
Trivia
When Don smells Percy, he can tell that Percy has an Empathy Link with a faun. Percy has an Empathy link with Grover Underwood, a satyr (the Greek form of a faun).
He is the only faun who has a speaking role and is mentioned by name in The Son of Neptune.
He acts as a nurse in the aftermath of the Battle of Camp Jupiter, demonstrating the healing skills possessed by fauns (as well as satyrs).
References
↑ The Son of Neptune, Brochure (Barnes & Nobel Edition)