Boba Fett Returns - The Loop
Play Sound
Dr. Doctorpants is the textile arts teacher at Culeco Academy of the Arts.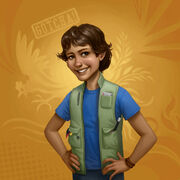 He is dressed as a gumball machine and throws Sal Vidón a gumball when he enters.
The following day he is dressed as a Jigglypuff and when Gladis Machado says Sal is disturbing her, he asks him to stop. In another dimension he is dressed as Amethyst from Steven Universe.
He supervises a group of kids making costumes, dressed as a combined costume of TweedleDee and TweedleDum, while Aventura Rios supervises another group.
Personality
He is shown to be joke around with his students.
Trivia
References