Edgarton Day and Boarding School is a school located in Pasadena. Jason Grace attended this school during The Burning Maze.
Description
Edgarton is located on top of a hill. It is described as a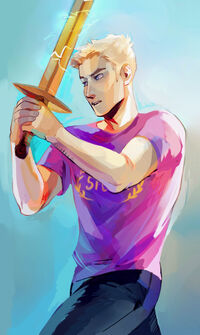 sprawling campus of blond-brick buildings interlaced with garden courtyards and walkways shaded by acacia trees. There is a sign in front done in subtle bronze letters. A security guard stands at the front gates of the school to monitor who comes in and out of the school.
All the classrooms opened onto the courtyards and student lockers lined the walkways.
Jason's dorm room was a fifty-foot square space and had a bookcase, a bed, a desk, and a wardrobe. An open window looks out across the canyons and fills the room with the smell of hyacinths. Jason's model of Temple Hill sits on his desk. The outlets sparked after Jason hears that Leo Valdez is alive and his desk lamp's light bulb burst after he heard about Medea returning.

It is also made known in The Burning Maze that the students need permission to exit the school grounds. But Piper McLean can easily come in and out and take Jason Grace without a problem, due to Charmspeak.
Apollo, Meg McCaffrey and Piper McLean go to the school to recruit Jason Grace and ask him what The Oracle of Erythaea told him during his time in the Labyrinth.
Faculty
A bearded teacher in a tweed suit who taught Jason's fourth-period class
Teacher
Two hall monitors
Humanities teacher (probably an Empousa)
AP Calculus teacher (a Blemmyae)
Known Students
Trivia
All the students wear uniforms that consists of blue blazers, white shirts, red ties, grey trousers, and shiny shoes, like junior business executives.
Edgarton is the third gender exclusive school in the series, after Clarion Ladies Academy and the unnamed all-girls boarding school attended by Thalia and Annabeth around the time of The Titan's Curse.

It is also the first gender exclusive school for boys seen in the series.