Egypt is still unfinished

This article is still being updated with information. As such, information may be missing or incomplete. Please consult the talk page to see what you can help contribute to the page.
The Arab Republic of Egypt, more commonly known as Egypt, is a transcontinental country located mostly within Africa and and small portion of Western Asia, but also spans the southwest corner of Asia via a land bridge formed by the Sinai Peninsula.
History
Egypt arose in the tenth millennium BC, making it one of the world's first nation states. Considered a cradle of civilization, Ancient Egypt experienced some of the earliest developments of writing, agriculture, urbanization, organized religion and central government in history.
The First Nome has appeared in all three books, as well as the capital Cairo. The cities of Alexandria and Luxor have both appeared in two of the three books.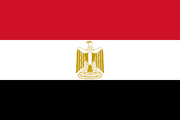 Trivia
The Sinai Peninsula in Northwestern Egypt is considered to be a section of Western Asia.