"
Elpis, the Spirit of Hope, would not abandon humanity. Hope does not leave without being given permission. She can only be released by a child of man.
"

–Prometheus, about Elpis, to Percy Jackson, in The Last Olympian
Elpis is the Greek spirit of hope in Pandora's pithos. Her Roman counterpart is Spes.
History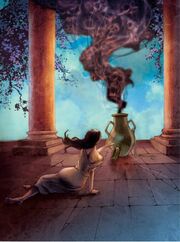 Elpis is the spirit of hope and was the only good thing placed in Pandora's pithos. When Pandora opened the jar and unleashed its evil contents onto the world, Elpis was the only remaining benevolent spirit, staying with humanity so they would not give up hope.
When Prometheus was enlisted to organize a truce between the demigods and Titans for a peaceful end to the fighting, he had Pandora's pithos in his possession. When Percy Jackson refused, Prometheus gave him the jar so that when he was ready to surrender, all he had to do was release her, symbolically "giving up hope." Though Percy was tempted to throughout the entire battle, Elpis was never released. In the end, Percy gave her to the goddess Hestia for safekeeping, because "hope survives best at the hearth." Hestia has since retained guardianship of the pithos.
Trivia
While Elpis is only referred to as a spirit, her Roman counterpart is stated to be a goddess.
Percy Jackson speculates that Zeus had some sense of shame by having Elpis be the sole good spirit amongst the evil ones in Pandora's pithos. [1]
References
↑ Percy Jackson's Greek Gods, You Gotta Love Aphrodite