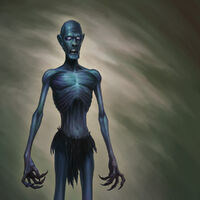 An Eurynomos (plural: Eurynomoi) is a spirit of rotting corpses and is a flesh eating monster originating in the Underworld. Hades loved them, they usually travel in pairs.
Description
The slightest cut from the claws of a euryomos causes a wasting disease in mortals. And when they die, they rise again as vrykolakas, Greek zombies. If a eurynomos manages to devour the flesh from a corpse until only its bones are left, those bones would reanimate into a skeleton warrior. These skeleton warriors usually serve as guards in Hades' Palace. The healers of Camp Jupiter are typically able to cure the infection that they cause due to experience with the creature, however, Apollo required godly healing, possibly due to his own lingering godly nature.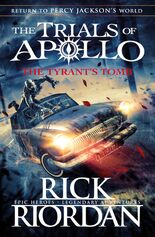 On their way to Camp Jupiter, Apollo and Meg McCaffrey are attacked by one and are thrown into a nearby park. The euryomos is about to kill them and eat Jason's corpse when the pair are saved by Lavinia Asimov.
Appearance
The euryomos that Apollo nicknamed "Vulture Diaper" looked like a withered and ghoulish humanoid. Its blue-black hide glistened like the skin of a house fly, its eyes were filmy and milky white orbs, and its bared teeth in its oversize mouth were dripping saliva. Around its torso was a tattered a loincloth of greasy black feathers. Its smell of rancid meat was more putrid than any dumpster.
Trivia
Rick Riordan calls the Eurynomos a disgusting monster and he loves it.[1]
Eurynomos is, outside of the Riordanverse, either a minor figure whose associated literature is lost to time - minor god of rotting corpses, or possibly an invention by the painter Polygnotos.
References