Felix Philip is one of Carter and Sadie Kane's students. He is ten years old, being one of the youngest magicians at Brooklyn House. Felix wants to follow the god of ice, despite the fact that there isn't an Egyptian ice god, but since he can't find one yet, he instead follows the path of Ptah.[1] He also believes that penguins are the solution to every problem.
When Felix first arrived at the Brooklyn House, he was the youngest child there, at age nine. Sadie notes that he loves penguins and had transported a winter wonderland including penguins into the Brooklyn House fireplace. When she tells her dream to the rest of the initiates, Felix asks if they were all going to die when the others were afraid to ask. He also tries to start singing "Happy Birthday" when Sadie mentions it's her birthday, but no one joins in.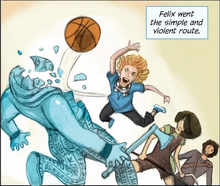 In the lesson, Magic Problem-Solving 101, taught by Carter, Felix uses a basketball to make a shabti lose its balance and shatter into pieces. He is very curious and questions Walt after the older magician accidentally disintegrates the shabti. When the three headed snake attacks Carter and his other trainees, Felix takes off his left shoe and throws it at one of the heads. 
In the The Battle of Brooklyn House, he summons a squad of penguins, which are quite effective as the magicians who were sent to Antarctica seemed to be terrified of them.
Felix had summoned several penguins while raiding the gift shop with his fellow trainees as Carter and Sadie were outside. These penguins, when discovered, were wearing King Tut masks. He fended off evil spirits in the brief battle against Apophis with a powerful aura. However near the end of the battle it started to fail. After the failed attempt at Texas, the next morning he carved mini penguins shabti out of his mashed potatoes and brought them to life.
In the final battle, Felix encases his enemies in snowmen with an army of penguins that pecked at enemy magicians and stole their wands.At the end of the book, he says that he was meant to follow the path of the ice god, much to Carter's confusion, as Egypt is a desert, and there would be no ice. Carter asked if there is a god of ice and Felix replied enthusiastically that he had no idea.
Personality
Felix has an innocent, somewhat playful personality, and is viewed as a little brother by most of the Brooklyn House. He is also known to be talented at playing basketball. He prefers to use things like shoes, penguins, and basketballs as weapons, rather than magic. He likes to use magic for practical jokes and summoning magical penguins, but not really for combat.
Abilities
Felix is a powerful magician, and has a vivid purple aura in the Duat.[2]
Magic
Magical Items
Felix carries a standard magician's kit:
Wand: Felix uses his wand in The Serpent's Shadow by throwing it like a boomerang to knock over a clay pot. This is his defensive weapon.
Staff: Felix carries a staff and uses it in The Serpent Shadow to fend off evil spirits. This is his offensive weapon.
Trivia
Gallery
References