Ferdinand was a satyr and Grover Underwood's uncle. He was a searcher looking for Pan, the god of the wild, but was turned into a statue by Medusa, thus killing him.
History
Ferdinand was one of the many satyrs who searched for the god Pan. While he was searching, he came across Medusa and was turned into a statue by her "stone cold look."
His statue is displayed at Aunty Em's Gnome Emporium when Percy Jackson, Annabeth Chase, and Grover Underwood visit. At first Grover laughs about the coincidence of seeing a satyr statue that looks quite similar to his Uncle Ferdinand. However, he soon figures out the identity of Aunty Em, who is Medusa, and realizes that the statue actually is his Uncle Ferdinand.
Kronos' army hides out at the Garden Gnome Emporium. However, with Medusa's absence and the store now abandoned, the emporium has been vandalized. The statue now has graffiti on it and has one missing arm.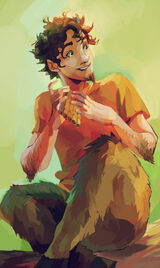 Film
Grover recognizes the statue as looking like his Uncle Ferdinand, but dismisses it as his Uncle Ferdinand was killed by Medusa. Suddenly realizing where they are, he goes to find Percy and Annabeth.
The favored three survive her wrath, breaking Ferdinand's arm.
Whilst looking for Gleeson Hedge, Grover tells Apollo that his father, Ferdinand, and many of his family members sacrificed their lives searching for Pan.