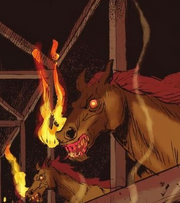 Fire-breathing horses are a type of magical species of horses that breathes out fire through their nostrils. Percy Jackson and Annabeth Chase find them at the Triple G Ranch and Percy sees some, pulling Ares' War Chariot, at Staten Island Zoo in The Demigod Files.
Triple G Ranch sells fire-breathing horses for war. They are seen briefly in the stables on the way to his ranch. Percy notes that the fire must hurt the horses' sinuses.
Ares' War Chariot is pulled by fire-breathing horses. They are black in color and are disguised by the Mist. While at the zoo, they had a note on one of the horses saying, "Official Zoo Vehicle." They might have manes of fire because a little girl looked at them and said, "Pony on fire!"
Commodus owns several fire-breathing horses in Indianapolis.