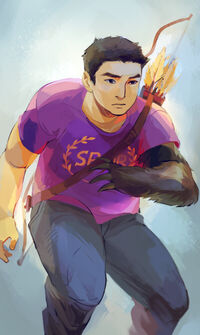 Frank's spear was given to him by his father Mars, the Roman god of war. The end has a dragon's tooth which, when planted in the ground, causes a Skeleton Warrior to appear. The Skeleton Warrior, whom Frank dubbed Gray, would follow any order given to him by Frank as long as it is short and given shortly after he is summoned. Frank knows he must be specific in his orders or Gray may end up injuring or killing his friends and/or allies or even himself. The spear could only use three dragon teeth (called charges by Mars) and after the three charges were used, the spear would vanish. There was also a waiting period, twenty-four hours, between charges to allow the dragon tooth tip to grow back fully before it could be used again.
After claiming Frank as his son, Mars gives him the spear as a birthday gift, until he can learn to use his family's gift. Frank, who is not skilled with spears and is angry that his father is Mars, does his best to forget about the spear, until the Giant Polybotes sets three basilisks on outside of Rainbow Organic Foods & Lifestyles. The spear dipped towards the ground, and Frank instinctively broke the tooth off, summoning the warrior. The warrior killed the three basilisks and disappeared, and after twenty-four hours, the tooth grew back. Frank used his second charge to get rid of the Laistrygonians which were blocking the trio's way to his old house. He used his third and final charge to defend the mortals on the train in Alaska from the attacking griffins. After Frank used his final charge, the spear shaft dissolved.
Community content is available under
CC-BY-SA
unless otherwise noted.