Gabi's Fathers are a group of five men, one woman, and one robot who are relatives and father figures of Gabi and Ignacio Real.
When Dulce Sotolongo drags Sal Vidón to the room the Reál family is in, they warmly greet him and invite him to join them. When Sal asks about Ignacio Real, they all become silent.
Later the next day at the Coral Castle, Sal and Gabi find a group of scientists assembling the Rememberation Machine in the living and see Bonita, a female robot dad.
When Sal and Gabi work on their everyman play, the dads all use their skills to help out. Later that day the get ready for Iggy to die when his immune system shuts down. In an alternate universe they are part of a prayer session hosted by Floramaria Vidón to cure their Iggy and they all concentrate to help Sal switch parts between the two Iggy's to fix them.
Known Dads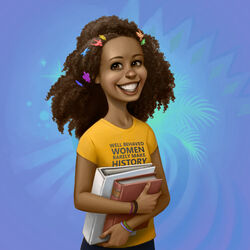 Lightning Dad: He is the chief meteorologist for the Ahora Mismo News Network. He is described as middle-aged, standing at medium height with a medium build, curly hair, and a skin tone between African and European.
Grizzly Dad'ums (Real name José): He works for the American Heart Association. He is described as burly. He was married to Cari-Dad but got divorced. However, they get along fine.
Cari-Dad: A female dad, she is a cardiologist. She is described as African-American with gold ribbons in her braids. She was married to Grizzly Dad'ums but divorced him. However, they get along fine.
Dada-ist: An artist from the Dominican Republic who has sculptures on display at the Miami Museum of Kinetic Art.
Daditarian: A second generation Cuban American who runs a food co-op and encourages people to eat insects rather than traditional meat.
Dada-dada-dada-dada Dadman!: He works as a party performer who dresses as superheroes and a stuntman for hire.
Dad: The Final Frontier (Real name Bonita): A robot working with technology and an assistant to Gustavo Vidon.
Meow-dad (TransubDad-tiation in another universe): A male and adopted cat.
Presti-Dad-gitation (Real name Sal Vidon): Given honorary dad status for helping them in their hour of need with Iggy.
Trivia
It is currently unknown which of the dads, if any, are the biological father, or fathers, of Gabi and Iggy. Although, Rick Riordan may have hinted that he is Lightning Dad.[1]
References
↑ "I could try to explain why Gabi's father is called Lightning Dad," Sal and Gabi's Excellent Universe-Destroying Adventure
Community content is available under
CC-BY-SA
unless otherwise noted.