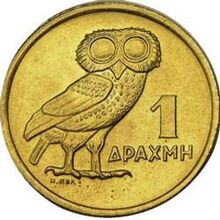 Golden drachmas are large, round coins that are usually made of gold or silver. They were used as currency by the Ancient Greeks. Mortals used to use the silver drachmas. However, as Chiron stated in The Lightning Thief, the gods never use anything less than pure gold. They are described as big as Girl Scout cookies by Percy, and are used by the gods and demigods. The drachmas have images of various gods stamped on one side, and the Empire State Building on the other.
Uses
The ancient mortal drachmas were made of silver, but the gods now do not use anything less than pure gold mined from Olympus. Golden drachmas are used as currency, to send Iris message, and for getting a taxi ride from the Gray Sisters.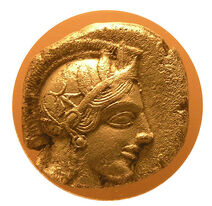 Drachma can be used for the following:
To create an Iris Message
As payment to get into the Underworld
To pay the Gray Sisters to take you anywhere as long as its within their serving area
As payment for sending a letter or package along the Hermes Express
Currently, the pure gold drachma is the main currency of the gods, goddesses, and demigods.
The most common use for the drachma is to send an Iris Message through Iris, the rainbow goddess. It is used for contact when nothing else is available, and is quite useful if any extra drachmas are allowed for use.
After beheading Medusa, Percy Jackson fills a pouch with drachmas and mails the head to Olympus. He later uses some drachmas to bribe Charon when he first enters the Underworld.
When summoning the Gray Sisters' Taxi, Annabeth Chase throws a drachma in the street which falls through.
Roman demigods don't use drachmas because it's Greek currency. Instead they use denarii. The Romans never used Iris Messages like the Greeks because they relied more on their giant eagles and road systems.
Film
Percy, Grover Underwood, and Annabeth find a fountain filled with drachmas at Aunty Em's Gnome Emporium which they later use to pay Charon after their mortal money was burnt by him.
Video Game
Drachmas aren't used as currency, instead they are used as equipment for characters. They increase certain attributes to whoever equips it. Each character can equip two. There are 20 drachmas that the player can collect in the game.
| | |
| --- | --- |
| Name | Effect |
| Missing Math Teacher | 10+ Dodge |
| A Rainy Farewell | 10+ Strength |
| The Minotaur's Horn | 10+ Strength |
| Beginner's Luck | 10+ Accuracy |
| Victors | 10% Water Damage |
| Hot Time At Camp | 10% Fire Damage |
| Road Trip | 10+ Protection |
| Worst Bus Ride Ever | 50+ Max HP |
| Bad Hair Day | 10% Poison Damage |
| Ten Heads Aren't Better | 10% Physical Damage |
| Fan Club President | 20% Fire Damage |
| To Fight a God | 20% Strength |
| Back Together Again | 20+ Protection |
| A Pricy Ride | 20% Water Damage |
| Worse Hair Day | 20+ Dodge |
| All that Glitters | 20% Healing |
| Shot in the Dark | 20+ Accuracy |
| Payback | 20% Poison Damage |
| Brotherly Love | 100+ Max HP |
| Arena Champions | 20% Physical Damage |
Gallery
Trivia
Drachmas are Greek currency, while aureus or denarii are Roman currency.
The word drachma came from the word drássomai, which means "to grasp."
Though Percy describes the drachma's as being as big as girl scout cookies, in The Lightning Thief, they are the size as regular coins.
Reference
Community content is available under
CC-BY-SA
unless otherwise noted.