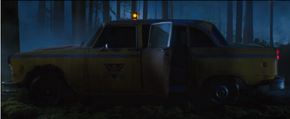 The Gray Sisters Taxi (also known as the Chariot of Damnation) is a taxi that operates in greater New York.
Description
The Gray Sisters' taxi is summoned by saying "Stêthi 'Ô hárma diabolês" (translated as "Stop, Chariot of Damnation") and throwing a golden Drachma on the road. It is said by Annabeth Chase to be the fastest mode of transportation to Camp Half Blood, as the drivers do not care how fast they are going. However, this can cause some problems. If their single eye is taken and they continue to accelerate, they will go faster and faster until the car blasts into pieces. Apparently, they don't take Cyclopes unless an extra pay is given.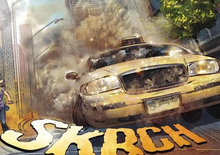 Annabeth summons the taxi as a quick transportation to Camp Half-Blood. The sisters drive around very recklessly and almost causes Tyson to throw up, as he was getting car sick. When Percy asks Annabeth why she did not just take the taxi to New York (as she looked like she had been crawling though bushes), she claims that she was out of their area. During the ride, Percy learns the location of the Sea of Monsters from the Gray Sisters by keeping their eye hostage until they told him what he wanted to know. The drivers are named Anger, Wasp and Tempest.
Apollo and Meg McCaffrey take the taxi to Camp Half-Blood from Manhattan to recruit demigods for a mission.
Appearance
The Gray Sisters' Taxi appears to be woven out of smoke. Instead of seat belts, there are black chains. Percy had described the seats of the Taxi as cracked and lumpy, like an ordinary taxi.
Community content is available under
CC-BY-SA
unless otherwise noted.