Hera's Cabin (#2) is the cabin made to honor Hera, being the queen of the gods.
Description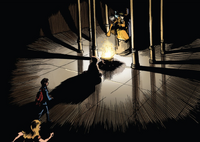 Hera's cabin is made out of marble and is shaped like a box. The cabin is more graceful than Zeus's Cabin, with slimmer white columns, garlanded with pomegranates and flowers. The walls are carved with images of her symbol; the peacocks. It is freezing cold inside with a huge statue of Hera with a fire pit at its feet, but no beds. There are no residents due to the fact that this cabin is an honorary cabin and she does not have any children with mortals since she is the goddess of marriage and therefore has no mortal affairs.
Known occupants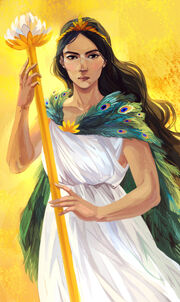 "
She's the goddess of marriage, so of course she wouldn't go around having affairs with mortals. That's her husband's job.
"
Because Hera is the goddess of marriage, she must maintain her marriage with Zeus. Thus, she has no demigod children.
Gallery
Trivia
Hera's cabin has the least amount of known inhabitants with none at all, due to her being the goddess of marriage.
Her cabin is the only cabin that does not have and will never have an inhabitant.
Rachel Elizabeth Dare was possessed by Hera while in her cabin.