Hermes cabin (#11) is the cabin that houses the children of Hermes and newcomers to Camp Half-Blood who are unclaimed. Formerly, the children of minor gods lived there as well. New arrivals still do stay at the cabin until they are claimed.
Description

It is the largest, oldest and most worn-looking of the cabins due to its former use as a home for all unclaimed and homeless demigods. Its dull brown paint is chipped off and there is a caduceus overhanging the door.
Hermes' Cabin is packed at all times. It has at least one bedroom with two twin beds, a wooden nightstand in between the two beds with a Grecian urn on it, a trunk at the end of the bed, Winged Shoes hung on a hook, a wooden desk and a chair, and curtains on the windows for privacy. Posters, pictures, a sword, a map of Camp Half-Blood and a calendar hangs on the wall.
Film
In the film adaptation, Hermes' Cabin has tent canvases on the windows for privacy and rooms for each of the occupants; Luke's room has a desk lined with computer monitors, Winged Shoes as a gift from his father Hermes, a map leading to the Underworld, a collapsible shield, a cot, and wooden shelves.
History
Hermes' Cabin had been lining the hills with traps, snares, and other kinds of surprises for the Romans.
After Demeter's Cabin was destroyed in Nero's Skirmish at Camp Half-Blood, the occupants stayed at Hermes' cabin until their cabin was rebuilt.
Known Occupants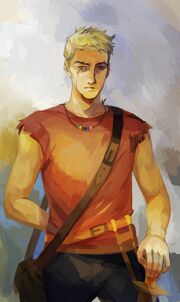 Hermes' Acceptance Policy
Being the god of travelers, Hermes' cabin has an acceptance policy stating that any undetermined camper can stay inside. This means half-bloods whose immortal parent hasn't claimed them or whose immortal parent doesn't have a cabin at camp would stay in the Hermes cabin.
After Percy made the gods swear on the River Styx that they would claim their children at the age of thirteen and make cabins for the minor gods who chose peace after the Second Titan War, only the children of Hermes and the older unclaimed campers live there. All new campers would stay in the Hermes' cabin until they are claimed by their immortal parent.
Abilities
​​​​​​As their father is the god of travelers, Children of Hermes are naturally "jacks-of-all-trades". Their skills include:
Enhanced Speed: Children of Hermes have a high athletic ability and swiftness.

Teleportation: Some children of Hermes inherit super speed fast enough to run on air and become a blur.

Audiokinesis: Children of Hermes are skilled at trickery and very persuasive, acting very good as spies and influencers.
Enhanced Theft Abilities: Children of Hermes are able naturally stealthy and can supernaturally steal things without people noticing, even other demigods.

Clauditiskinesis: Children of Hermes can magically sense the internal structure and mechanisms of any lock they touch. They are able to make it unlock, even telekinetically. This doesn't work on cursed locks, though.

Lock Intuition: They can identify curses and traps placed on locks. If they concentrates hard enough, they can deactivate them.

Alchemy: Children of Hermes are good at making potions.
Chrimatakinesis: Children of Hermes are presumably quite good with money.
Magic Items
Trivia
The Hermes Cabin was the first known cabin to have two head counselors, Travis and Connor. Though in The Lost Hero, Travis goes to the head counselor meeting without Connor.

Conversely, in The Hidden Oracle, it has been revealed that Travis has gone to college, thus leaving Connor as the sole Head Counselor.
Gallery
Community content is available under
CC-BY-SA
unless otherwise noted.