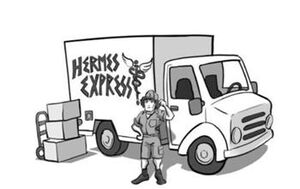 The Hermes Express is the Olympian equivalent of a courier/messenger service, run by Hermes.
Percy Jackson uses the Hermes Overnight Express to send the head of Medusa back to Mount Olympus after he beheaded her in the battle at Aunty Em's Gnome Emporium. Later, he finds the same package in his bedroom marked "Return to Sender" sent back by Poseidon.
Hermes mentions to Percy that the Overnight Express business is booming, and later Poseidon also uses the service to send Percy a letter, which Hermes personally delivered.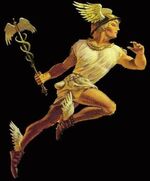 While Percy is celebrating his one month anniversary with Annabeth Chase, a Hermes Express truck appeared on the lawn in front of them. No one else in the area noticed it except them. Hermes enlisted Percy to find his Caduceus so he could make his deliveries on time. Percy retrieved the staff and Hermes finished his deliveries.
When Annabeth Chase is on her quest for the Mark of Athena under the city of Rome, she stumbles across a box from Hermes delivery services. She is excited, because it may be something to help with her quest. When she opens the crate, however, all that is left inside is bubble wrap. Annabeth later realizes it was a gift and uses it as gauze for her broken ankle.