Cobra Kai Season 4 - The Loop
Play Sound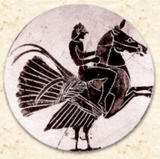 Hippalektryons (also known as "rooster ponies") are an endangered species of horse-like monsters.
Description
Some hippalektryons are kept at the Triple G Ranch. They lay eggs once a year. When their eggs are laid, they are made into omelets by Geryon. Geryon hints that hippalektryon omelets taste better than regular omelets.
Percy Jackson, Annabeth Chase, Grover Underwood, and Nico di Angelo spotted hippalektryons in the Triple G Ranch, when Geryon and Eurytion were taking them around the ranch on the Moo-Mobile. Annabeth exclaimed that she thought that they were extinct. She reprimanded Geryon for collecting their eggs for omelets.
Appearance
Hippalektryons have the front half of a horse and the back half of a rooster. Their rear feet have huge yellow claws. Their tales are feathery and their wings are red.