She-Hulk Trailer Dropped - The Loop
Play Sound
Italy, officially the Italian Republic, is a unitary parliamentary republic in Southern Europe. To the north, it borders France, Switzerland, Austria, and Slovenia along the Alps. To the south, it consists of the entirety of the Italian Peninsula, Sicily, Sardinia—the two largest islands in the Mediterranean Sea—and many other smaller islands.
Italy in the Modern World
The territory of Italy covers some 301,338 km² (116,347 sq mi), and it is influenced by a temperate seasonal climate. With 60.8 million inhabitants, it is the fifth most populous country in Europe, and the twenty-third most populous in the world.
Rome, the capital of Italy, has for centuries been a political and religious center of Western civilization as the capital of the Roman Empire and site of the Holy See. After the decline of the Roman Empire, Italy endured numerous invasions by foreign peoples, from Germanic tribes such as the Lombards and Ostrogoths, to the Byzantines and later, the Normans, among many others. Centuries later, Italy became the birthplace of Maritime republics and the Renaissance, which was a popular form of art and culture. Through much of its post-Roman history, Italy was fragmented into numerous cities and regional states (such as the Republic of Venice and the Church State), but was unified in 1861. In the late 19th century, through World War I and to World War II, Italy possessed a colonial empire.
Modern Italy is a democratic republic. It has been ranked as the world's twenty fourth most-developed country and its Quality-of-life Index has been ranked in the world's top ten in 2005. Italy enjoys a very high standard of living, and has a high GDP per capita. It is a founding member of what is now the European Union and part of the Eurozone. Italy's official language is Italian.
It is said that the seven heroes' quest will first take them to Rome, Italy and eventually to Athens, Greece, the reason being that the giants want to destroy the Olympians at their eldest roots instead of attacking the West directly, like Kronos and the Titans did and failed.
The seven demigods go to rescue the imprisoned Nico di Angelo from the hands of the twin giant♙ Ephialtes and Otis, who were banes of Bacchus, and have set up headquarters in Rome. They sail to Rome from the Mediterranean on the Argo II and fight the twin giants and in Rome.
Five of the seven demigods and Nico go to Venice and Bologna.
Trivia
Italy has two countries within it's boarder, San Marino in the northeastern Apennine Mountains and Vatican City within Rome.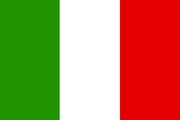 See also