Julia is a seven-year-old girl who assists Terminus, the Roman god of boundaries, at Camp Jupiter. She points for him and brings him things he can't reach, such as the weapon tray when Percy Jackson had to give up Riptide, because he has no arms. She also hands out things if necessary, such as party hats. She is a legacy of an unknown roman god.
History
Julia was born to two veterans of the Twelfth Legion Fulminata in New Rome. At one point in her life, she became the assistant to Terminus and act as his hands, taking weapons from visitors entering the city limits and pointing for him.
When Percy, Hazel Levesque, and Frank Zhang are on their way to the Senate, who will decide what supplies they will be given for their Quest, they must cross the Pomerian Line into New Rome that Terminus guards with the help of Julia. Terminus stops Percy and tells him that he cannot carry his weapon past the border and calls for Julia, who is standing behind him. She hides from his gaze as Terminus can't turn around to look at her (being a statue), but she eventually shows herself. She holds out a small tray for Percy to place his pen in.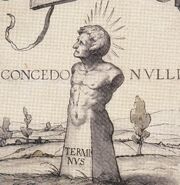 Later after the battle with the Giant Army, she gives out party hats to people. When Percy arrives, she gives him a blue crown and she gives Hazel a gold pirate hat, telling her that she wants to be like Percy when she grows up. It was then that Percy noticed that her missing front two teeth were just starting to come in. When Frank meets them, she gives him a hat shaped like a polar bear.
Between the Series
When Claudia, a probatio in the Fourth Cohort, asks Terminus about denying a girl entrance to the camp in the 1990's, she asks the statue god why he did.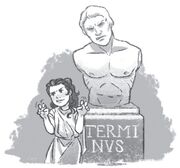 Julia is mentioned to be with a foster family, as her parents died in the first wave of Caligula's assault.
During the second wave, she hides behind Terminus, protecting him with a steak knife. After the battle Terminus adopts her, much to her enjoyment.
Personality
Julia is a playful trickster, who likes to hide from Terminus under his statue base when he needs her.
Appearance
Julia has pigtails, wears dresses, and has two missing teeth that are starting to come in. She is described as "impish looking".
Trivia
In the first print of The Son of Neptune, Julia's name is misspelled as Juile.[1]
Julia is a legacy of an unknown god/goddess, as she has family in the city.
She likes to do cartwheels.
References
↑ The Son of Neptune, Chapter 13