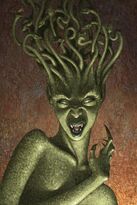 "
Tourists screamed as Kampê appeared from the dust and rubble, her wings spread out as wide as the yard. She was holding two swords—long bronze scimitars that glowed with a weird, greenish aura, boiling wisps of vapor that smelled hot and sour even across the yard.
"

–Percy Jackson about Kampê's Scimitars, in The Battle of the Labyrinth.
Kampê's Scimitars are two swords with curved blades that are wielded by the monster Kampê. If Kampê is killed, the swords are left for the heroes to claim as spoils of war. They were bent into the shape of the letter M by the boulders of Briares in The Battle of the Labyrinth. The swords currently reside in the Big House Attic, along with other famous spoils of war.
Abilities
The scimitars are coated with poison that will cause anyone who is hit by them to shrivel to dust and die. The poison will not kill a Cyclops or a Hekatonkheire, although it will cause them severe pain.