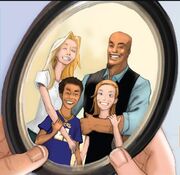 The Kane family is an ancient Egyptian magician line descended from the blood of the pharaohs, specifically the first pharaoh, Narmer, whom Julius Kane resembles. The most recent generation, which consists of Carter and Sadie Kane are also descended from the Faust family, another ancient magician bloodline with blood of the pharaohs coming from King Ramesses.
The Kane family has a number of magical objects associated with them including the Brooklyn House, a five-story house on top of a warehouse that overlooks the East River in New York, and the Egyptian Queen, a magical boat that the Kane family may summon once a year.
Members
Allies
Enemies
Community content is available under
CC-BY-SA
unless otherwise noted.