Jurassic World: Dominion Dominates Fandom Wikis - The Loop
Play Sound
Kim Seonmi (pronounced geem suhn-mee) is a Fox Spirit and the mother of Jun and Min.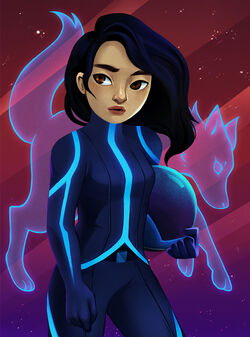 Seonmi is talking with a Thousand Worlds investigator who informs her that her son Jun has deserted the Space Forces in search of the Dragon Pearl. She denies this and the investigator asks to speak to Min, as Jun's last known message was meant for her, an she calls her daughter in. After Min claims their is nothing in the message she backs her daughter up and invites the investigator for breakfast she sends Min to set the table. When Min calls she is almost done the two come in and she senses her daughter's shapeshifting and she uses charm to on the Investigator. After he threatens an investigation into her family, Min turns back into human form and the Investigator grabs her by the throat. Seonmi begs him to release her daughter and as he goes to call the authorities, Min knocks him out with a plate. She scolds Min for her actions, and later for throwing a rag at Bora, and councils with the adults about what to do with the investigator.
Two months later, she greets Min with a hug and, seeing her son's ghost, is happy he is home. She invites them inside to tell their story.
Abilities
Shapeshifting: As a Fox Spirit, Seonmi can shapeshift into anything.
Charm: She can create illusions.