Larry is a Roman demigod, a son of Mercury, senator, and officer of the Legion. He is a centurion of the Second Cohort.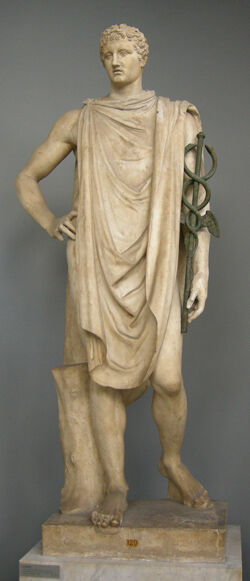 During Camp Jupiter's War Games, Larry helps defend the fort. Despite the attempt, the Fifth Cohort manages to break through and win the game. During the Senate meeting to discuss the quest to Alaska, he seconds Senator Hank's objection to all Fifth campers going on the Alaska quest, claiming it would be a suicidal mission even for demigods from a good cohort. Dakota retorts that Larry's cohort had their podex whipped by the Fifth at the Roman War Games the night before.
Larry is at the Senate meeting to decide if Camp Jupiter should let the Argo II land or not.
He is seen at the Senate House, he asks Apollo if the gods will really help them if they find Tarquin's tomb.
Afew days later he and his cohort storm a ship in preparation for the oncoming invasion. He greatly enjoys the task and expresses a desire to become pirate.
During the battle, his cohort is aided in taking out a pack of Cynocephali by Apollo and Meg McCaffrey, he sends two of his troops, Carl and Reza, to escort them to Frank Zhang.
The son of Mercury survives the battle and gives Apollo and Meg gifts, his bow from when he was a god and a pouch of ancient seeds respectively.
Trivia