A legacy is any mortal who is a second or further generation descendant of a god, namely the children, grandchild or descendent of a Demigod. They may or may not possess similar abilities to their godly ancestors. Recognition of Legacies seems unique to Camp Jupiter. It is also stated that various emperors of Rome were Legacies. Only first generation descendants of the gods attend Camp Half-Blood, although Camp Jupiter accepts legacies.
Most likely, there are many more legacies than demigods in the world. Many demigods (not just Frank Zhang) are probably legacies as well as half-bloods.
Description
Legacies are called as such due to being a mortal grandchild or further descendent of a particular deity, for example having three mortal grandparents and one godly grandparent. Legacies only count the god they are decedent off as an ancestor rather then that deitiy's parents or grandparents, for example a legacy of Ares/Mars is not considered a legacy of Zeus/Jupiter. However it is possible to be a legacy of two or more gods through various ancestral combonations.
Legacies are shown to sometimes have the abilities of their divine ancestor, such as Octavian having the gift of Prophecy or the decendants of Periclymenus inheriting his shapeshifting abilities. While this is true of some legacies, not every legacy has the abilities of their divine ancestor. This is due to divine powers diluting more and more after every generation of reproducing with mortals, however if a legacy's parents are powerful enough demigods, then the legacy's abilities will likely be on par with their half-blood parents.
List of Legacies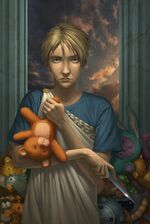 The gens Julia of Rome
In ancient Rome, the family known as Julia was a powerful Patrician Roman family, who claimed descent of many gods. Some of the famous members of this family include: Julius Caesar, Augustus Caesar and Flavius Julius. They trace their lineage back to Romulus, son of Mars and Rhea Silvia, descendants of Aeneas. Others would claim they were related to Aeneas, who lead his people away from Troy and eventually founded the land that would become Rome. Others would sometimes claim to be related to Dardanus, a son of Jupiter and Electra. The claims don't conflict, since in the myths, Romulus and Remus are descendants of Aeneas, who is a descendant of Dardanus.
The gens Caecilia of Rome
In ancient Rome, the family known as Caecilia, a prominent Plebeian tribe, claimed descent from Caeculus, a son of the God Vulcan and the founder of the Latin city of Praeneste. 
Ancient Swedish Monarchy
The kings of Sweden are believed to be legacies of Frey, a status that would apply to their modern descendants from various lines, including the modern Swedish Royal family and possibly the Chase Family, such as Magnus and Annabeth.
Trivia
A legacy is consider as such if they can call at least one god a grandparent at the very least, such as being:

the child or descendant of a demigod and a mortal.
the child or descendent of a legacy and a demigod.
the child or descendant of a legacy and a mortal.
the child or descendent of two legacies.
the child or descendent of two demigods.

Children born to a demigod and a god, or a legacy and a god are considered both a demigod and a legacy.
It is currently unknown how a legacy of two different gods is tattooed at Camp Jupiter.
Gallery
Modernday Legacies
Historic Legacies