Leucrotae or Leucrota are monsters that appear in The Demigod Diaries.
History
The leucrota are a species of swift beast that live in India. They were first mentioned by Pliny the Elder, in his book, Natural History.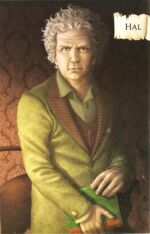 While Luke and Thalia were trapped in Hal's mansion, they meet two leucrotae in the hallway and notice that the monsters speak with the voice of a man. Part of Apollo's curse on Hal was that he could only speak through the leucrotae. Normally, a leucrota mimics the speech of any human to trick it's pray, but these beasts were linked to Hal's thoughts. As leucrotae cannot be harmed with any metal created by man or god, Thalia and Luke decide to try using Greek fire to burn the beasts to death. Hal gave his life to save them by luring the leucrotae away so Luke and Thalia could escape.
Appearance
A leucrota has the body of a lion, and red fur. It has the hooves and tail of a horse. Its head is a cross between a horse's and a wolf's. It is said to have red eyes, and instead of teeth, it has two solid plates of bone that make a clacking noise when hit together. The above description is written by Luke in The Diary of Luke Castellan.
Abilities
Vocal Mimicry: the leucrotae are able to mimic the voices of humans for communication.
Community content is available under
CC-BY-SA
unless otherwise noted.